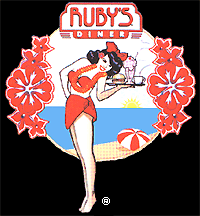 Our first sighting takes us to the island paradise of Maui, Hawaii. Ruby's has built a wonderful 40's-style diner at the Queen Ka'ahumanu Center in Kahului, Maui. If you have ever been to a Ruby's Diner you know that the food is fantastic, but what is of interest about this diner to Clipper aficionados is the decor. Surrounding the centerpiece - a B314 with a 16 foot wingspan - are Pan American Airways memorabilia and photographs. Also, models of many other period aircraft are mounted on the walls.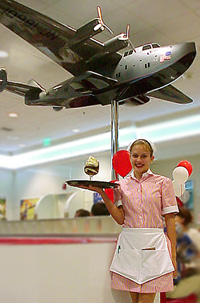 When on Maui, be sure to make Ruby's Diner a part of your Hawaii experience. As at all Ruby's diners, the staff are outstanding examples of what service is and was all about. It's a great trip back in time for all ages.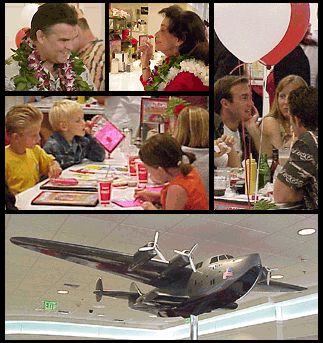 Copyright © 2002 Flying Clippers All Rights Reserved
All materials contained in http://www.flyingclippers.com are protected by copyright and trademark laws and may not be used for any purpose whatsoever other than private, non-commercial viewing purposes. Derivative works and other unauthorized copying or use of stills, video footage, text or graphics is expressly prohibited.