Explore the triumphs, struggles, and legendary heroes of a century of flight. One of the greatest inventions of our time is illuminated as never before in If We Had Wings. Featuring removable letters and documents, newspaper clippings, and photographs, this book brings the adventuresome spirit of aviation brilliantly to life. If We Had Wings invites you into the hearts and minds of the brave souls who dreamed, planned, strapped themselves into these silvery planes, and changed the world forever by achieving the miracle of flight.

STUDY Charles Lindbergh's entry form for his historic transatlantic flight.

COMPARE vintage luggage labels from the luxurious "Silver Wing" era of passenger flight.

EXAMINE Chuck Yeager's TOP SECRET report on breaking the sound barrier.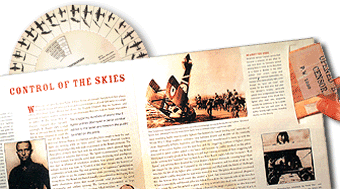 ABOUT THE AUTHOR



Rinker Buck, author of the critically acclaimed Flight of Passage: A Memoir, is one of the country's foremost aviation writers. Currently editor and writer for the Hartford Cuourant, Buck lives with his wife and two daughters in western New England..