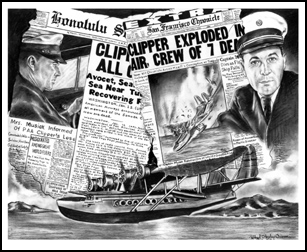 Respectful Remembrance:
Edwin C Musick
ABOUT THIS LITHOGRAPH


January 11, 1938: Captian Edwin C Musick, one of the world's greatest pilots, died along with his crew when his Pan American Samoan Clipper fell into the sea near Pago Pago. This is a one-of-a-kind 22x28 acid free, museum quality lithograph by artist Robert Stephen Simon. Respectful Remembrance is only offered in a signed & numbered limited-edition of 500.

Click on the Add Cargo box at the right to order.

Measurements: Measurements listed are approximate only. We do not recommend advance ordering of precut frames or mats.



Retail Price: $200.00
FlyingClippers.com Price: $130.00
You Save: $70.00 (35%)

Availability: Ships in 2 to 3 days

Format: Signed & Numbered Limited-Edition
Poster Size: 22 x 28