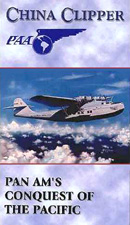 CHINA CLIPPER
Pan Am's Conquest of the Pacific



This monumental documentary is the compelling story of Pan American Airways conquest of the Pacific. It contains stunning and never before seen archival footage of Pan Americans Airways epoch ten year, ten thousand mile conquest of the Pacific Ocean. Our story begins in 1929 with the first plane to be christened a Pan American Clipper by Mrs. Herbert Hoover. She was assisted by Pan Am's legendary founder Juan Trippe. See aviation pioneers such as Igor Sikorsky and Pan Am's technical advisor, Charles Lindbergh play integral roles in designing, the Sikorsky S-42. This was the first plane capable of trans-Pacific flight.

You'll marvel at the heroic Pan Am construction crews ability to construct island bases on Wake, Midway and Guam. Pan Am Clipper passengers and crews used these island oasises during their trans-Pacific flights. Magnificent footage from an old promotional film shows, in detail, a Boeing 314 Clipper flight from San Francisco to Hong Kong via the elegant pacific stopovers in Honolulu, Midway Island, Wake Island, Guam & Manila, Philippines. In addition to wonderful local footage, passengers are seen relaxing and dining on board a Boeing Clipper, with much attention paid to in flight Clipper service and amenities on board a clipper, including overnight sleeping berths. Fascinating images include crew operations both in the air and on the ground!

Next see the first plane to be called the China Clipper, the beautiful Martin M-130. Witness its construction and historic first flight across the Pacific Ocean, piloted by the legendary Captain Musick in 1935. This was the beginning of the "Romantic Period" of flight.

Pan Am struggled to stay financially viable until a plane was designed that could carry both passengers and mail profitably on it's Pacific routes. The plane that saved Pan Am and changed the world was the Boeing designed Model-314. With the B-314, Pan Am completed it's conquest of the Pacific and established trans-Pacific service. The B-314 was a magnificent airplane that was instrumental in creating the romantic legend of the China Clipper during America's Golden Age of Aviation.

As part of this grand adventure, you'll see spectacular aviation footage of the famous seaplanes like the Sikorsky's S-40 and S-42, the Martin M-130, the Boeing Model-314 and Sikorsky's last seaplane, the VS-44A. All these planes made aviation history and contributed immeasurably to transoceanic flight.




Retail Price: $29.95
FlyingClippers.com Price: $26.95
You Save: $3.00 (10%)

Availability: OUT-OF-PRINT

Format: VHS - 1 Video Cassettes
Length: 60 minutes
Publisher: CAV Video
Pub. Date: 2000


Item No: V0053

See Across the Pacific. It has basically the same footage with the original Pan Am narration.