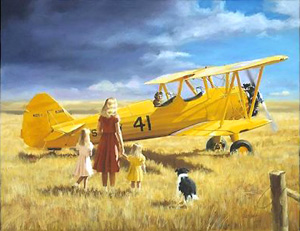 G'Bye Girls

ABOUT THIS PRINT



A Kansas wheat field is a ready-made landing strip for a Stearman. Here a wife and daughters watch as dad prepares to take off.

This is a giclee print of the beautiful nostalgic painting, "G'bye Girls" by Bruce Hedges, which won an award of merit at the Seventh Annual Horizons of Flight exhibition. Flying magazine May 2000 also featured this art.

Print has white margin with the title and artist name in bottom margin. It is printed on Somerset 100% cotton and is acid free. Print signed and numbered by the artist, Bruce Hedges, who is a member of the American Society of Aviation Artists and studied art at the California Art Institute.

Retail Price: $75.00

Availability: Out-of-Print

Format: Giclee Print
Print Size: 14 3/8 x 18
Item No: BH-2





Color representation: Although we have taken precautions to insure accurate representation of each work reproduced in our online catalog, there may be some slight shift in color due to limitations of web imaging.

Measurements: Measurements listed are approximate only. We do not recommend advance ordering of precut frames or mats.