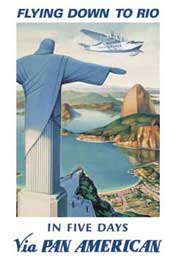 Pan American Airways - 1938
Flying Down to Rio


ABOUT THIS POSTER



This poster shows one of Pan American Airways' Sikorsky S-42 flying boats over Sugar Loaf mountain in Rio de Janeiro harbor, with the huge statue of Christ on top of Corcovado Peak overlooking Botafogo Beach. The artist was Paul George Lawler.

This painting is available in two different editions. Click on the Add Cargo box at the right for the particular edition you want.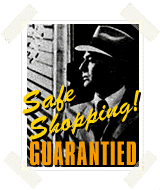 Color representation: Although we have taken precautions to insure accurate representation of each work reproduced in our online catalog, there may be some slight shift in color due to limitations of web imaging.

Measurements: Measurements listed are approximate only. We do not recommend advance ordering of precut frames or mats.

Retail Price: $50.00
FlyingClippers.com Price: $50.00
You Save: $0.00 (0%)

Availability: Ships in 2 to 3 days

Format: Full Color Poster from Original Lithograph
Poster Size: 38 x 26
Item No: CS-29





Retail Price: $15.00
FlyingClippers.com Price: $15.00
You Save: $0.00 (0%)

Availability: Ships in 2 to 3 days

Format: Full Color Poster from Original Lithograph
Poster Size: 13 x 9
Item No: CS-29m