Photo by Clyde Sunderland

ABOUT CLYDE SUNDERLAND



One of the premier aerial photographers in the nation, Clyde Sunderland mapped much of the Western states and documented the rise in commercial aviation after World War II during his illustrious career as an aviation photographer. Born in Oakland in 1900, Sunderland graduated from Oakland Technical High School. He also attended UC Berkeley where he studied Mechanical Engineering.
Working as an aerial photographer for over 40 years, Clyde Sunderland headed the firm Sunderland Aerial Photographs based at Oakland International Airport until his retirement in 1966. Using Fairchild Precision cameras that weighed as much as 90 lbs. each, Sunderland shot three types of photographs: vertical photographs used for mapping an area, continuous strip photographs, and oblique photographs that captured a specific subject at an angle. Each photography plane carried approximately $40,000 worth of equipment on each shoot. During the shoot, the photography pilots had to fly the plane at a steady altitude and speed in order for the camera shutters to click in synchrony with the speed of the plane.
Sunderland's passion for photography reveals itself to us most dramatically in his compositions depicting of some of the greatest moments in early aviation. Photographing planes as they soared past urban backdrops and stunning ocean vistas, Sunderland captured the elegance and splendor of the most technically advanced aircraft of the day, in their initial moments of flight.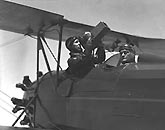 Clyde Sunderland with his custom made camera now housed at the Smithsonian

Sunderland photographed it all, from Amelia Earhart's inaugural voyage to Honolulu piloting the Lockheed Electra to the extraordinary maiden voyage of the China Clipper when the plane was forced to fly under the Oakland Bay Bridge because it was so laden with goods. Sunderland documented with passion and sensitivity the triumphs of the Golden Age of Aviation.

Sunderland's photographs were reproduced on the covers of Life Magazine and the Saturday Evening Post and were featured in many books and periodicals including National Geographic. He was a member of the Photographers Association of America and was a president of the Northern California Photographers Association. One of the earliest cameras used by Sunderland is now in the permanent collection of the Smithsonian Institute in Washington, D.C. Sunderland died on December 3, 1989 leaving us a rich visual legacy of America's achievements both on the ground and in the air.