Great Flying Boats of the 1930's

This set of six 18" x 24" serigraphs, each signed and numbered, comes with a certificate of authenticity and short historical account of the career of each plane. As a limited edition of 250 sets, these serigraphs feature the work of premier aviation artist Mike Machat, who renders the bodies of Pan American Airways' mythic Clipper planes in metallic silver and black, with color details of the American flag and Pan Am logo.

Pan American Airways' Boeing B-314, Sikorsky S-38, S-40 and S-42 planes, as well as the Consolidated Commodore, and the Martin M-130 are included. Each is shown from three views against a sepia-toned background image corresponding to the plane's respective region of flight.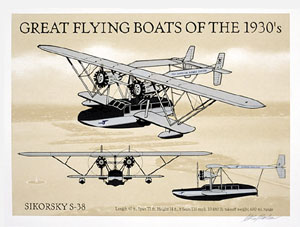 Sikorsky S-38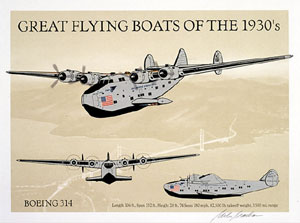 Boeing B-314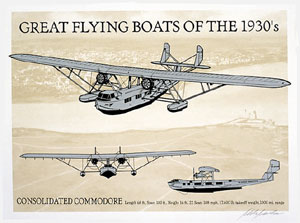 Consolidated Commodore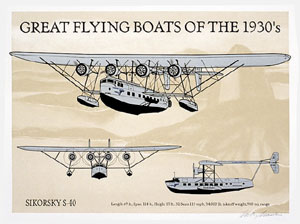 Sikorsky S-40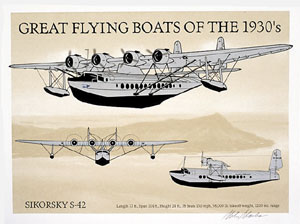 Sikorsky S-42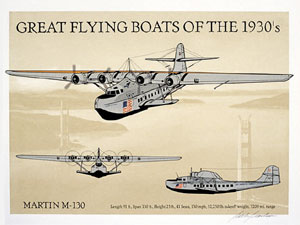 Martin M-130




ABOUT MIKE MACHAT



Mike Machat's success in the aviation art industry is not incidental. Growing up in the 1950s, he bore witness to numerous changes of aviation's technical guard as the world's first jetliners landed at his native Long Island's Idlewild Airport.

During his youth, he routinely journeyed there to marvel at—and sketch—the ascending objects of his earliest passion. Later, after completing Foundation Year studies at New York's Pratt Institute, he became an Air Force technical illustrator and earned his pilot's license, ensuring that his involvement with aviation would be a life-long, amorous affair. He has since accrued many hours of flight time in more than 200 different types of aircraft.

Upon finishing his service duties, Mr. Machat moved to Los Angeles where he graduated from California State University at Long Beach, and then earned a post as a Staff Illustrator for McDonnell Douglas. Seven years later, he opened his own studio, and was commissioned to produce works for such clients as Lockheed, Airbus Industries and NASA, as well as for R.E.G. Davies' renowned collection of airline histories. Both the mass and reputable quality of his artwork won him election as the inaugural president of the American Society of Aviation Artists, and his other affiliations include the Society of Illustrators of Los Angeles and USAF Documentary Art Program, to which he is a key contributor. He is currently editor of the magazine Wings and Air Power.

Mike Machat resides in Southern California with his wife, Sheri, and their two daughters.

Retail Price: $395.00

Availability: Out-of-Print

Format: Set of six serigraphs, each signed and numbered
Print Size:18" x 24"



Color representation: Although we have taken precautions to insure accurate representation of each work reproduced in our online catalog, there may be some slight shift in color due to limitations of web imaging.

Measurements: Measurements listed are approximate only. We do not recommend advance ordering of precut frames or mats.