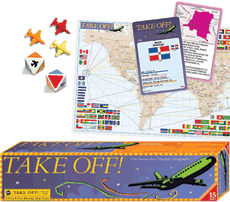 Take Off!®
Board Game

Knowing geography is the foundation for understanding our world. It helps us grasp the meaning of events here and abroad. For many kids, studying geography is meaningless and boring. That's why Take Off!® is such an exciting breakthrough. Take Off!® is educational and entertaining — great for the classroom and family room. What's more, it's easy to learn and fun for all ages. Thanks to Take Off!®, your feeling about geography will never be the same.

More than a quarter-million units of this game have been sold. This Parent's Choice Award winner does something extraordinary – it gets children excited about geography!

Here is how it works. Players race fleets of jets from city to city following colored route lines across a large laminated map of the world. The first player to complete the round-the-world flight wins the game. It is an exciting race that combines strategy with luck, in cooperation with good-natured competition. The simplicity of play makes Take Off!® the ideal introduction to basic location geography for young children, yet it is interesting and challenging for the whole family.

Game Contents:
Laminated world map, 48"by 21.5" (122 cm by 54.5 cm)
6 fleets of 4 jets (24 pieces)
Nearly 200 country profile cards
Two 8-sided TAKE OFF! dice
Game rules

For 2–6 players, ages 6 and up.

FAQS



Can my six-year-old really play Take Off!®
Yes! It's best if mom or dad or an older playmate helps read the city and country names, but a child who can recognize colors and follow a few simple rules can play Take Off!®

If a six-year-old can play, is Take Off!® just a kids game?
Not at all. Special Take Off!® country profiles provide multiple levels of play, making the game fun and challenging for the whole family

How up-to-date is the map?
We monitor changes in the world on a regular basis and update both the Take Off!® map and the country profile cards as warranted.

How does Take Off!® differ from other geography games?
The large, detailed world map and unique country profile cards featuring maps, flags, vital information, and tantalizing geographic clues bring the world to the home or classroom like no other game. Take Off!® goes beyond mere trivia to systematically build geographic awareness. Many products teach. Others entertain. Take Off!® stands out by doing both.

GAME RULES



If you have misplaced the game rules you may download a PDF file of the rules. If you do not have the PDF reader, you may download it for free at Adobe.com.


Retail Price: $34.95
FlyingClippers.com Price: $31.45
You Save: $3.50 (10%)

Availability: Currently Unavailable

Format: Board Game
Publisher: Resource Games
Item No: T0077
Air shipments may incur an additional charge.