In 1492, Columbus set sail in search of a western route to the Orient. Instead, he found a new world. Magellan's expedition found a way around this "obstacle" when it sailed around what is now Cape Horn and eventually back into known seas. Four hundred years later the Panama Canal shortened the route to China by 8,000 miles. In 1937, Juan Trippe, President of Pan American Airways, reduced the journey from over three weeks to six days, seven hours, and twenty minutes.

For a world coming out of economic depression, the majestic flying boats symbolized not only elegance and luxury, but adventure and romance to a degree not equaled since. They also represented to the world, the power and determination of a still largely isolationist America.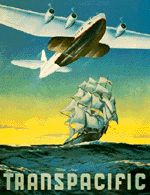 Due to the vision of Juan Trippe, who saw the importance of international travel for a changing world, Pan American Airways was to create an airline with routes circling the globe. Pan Am's flying boats, the Clippers, were to play a short but important transitional role in the evolution of transoceanic travel.

The great Pan Am Clippers—the Sikorsky S42's, the M-130's and the B-314's—were probably the most romantic planes ever built. The flying boats did not need the expensive concrete runways that were all too few-and-far between in the 1930's.

Just nine years after Lindbergh's transatlantic flight, Trippe had set his sights on the vast Pacific. But not only did Pan Am have to deal with the day's problems of open ocean navigation (no radar, for one), no plane of the day had near the range capability needed. He did notice, however, that Hawaii, Guam, and Manila formed a line of stepping stones to Asia. Further investigation revealed the islands of Midway and Wake breaking up the prohibitive 4,000-mile expanse of ocean between Hawaii and Guam. Still, he needed more plane than was available.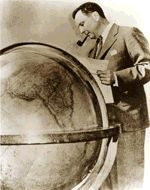 PAA's pioneering survey flights were made using the Sikorsky S42. Having a range of only 1200 miles, this four-engine flying boat was outfitted with extra fuel tanks to make the journey possible. Passenger service would not begin until Trippe received the first Martin M-130, which had a range of 3,200 miles and seating for 36 passengers. Powered by four Pratt & Whitney Wasp engines, the China Clipper began the first commercial Transpacific flight on November 23, 1935, landing in Honolulu. Five days later it arrived in Manila, via Midway, Wake, and Guam. (Service through to Hong Kong wouldn't be possible till a year later. Pan American used Macao as a western base until terminal landing rights could be acquired from the British, who controlled Hong Kong and were heavily influenced by Pan American's British competitor, Imperial Airways.) Within a year, starting on October 21, 1936, the M-130's were carrying passengers. Inaugurated with great fanfare, the China Clipper is probably the best known and most widely acclaimed aircraft in commercial aviation history.

The era of the glorious clipper ships (named for the swift square-rigged sailing ships of the 1800's) had arrived. And on February 23, 1939, the grandest embodiment of the flying boats, the Boeing 314, made its inaugural flight from San Francisco to Hong Kong. The California Clipper had plush seating for 74 (sleeping berths for 36), a separate dining room where passengers were served full-course meals, separate men's and women's bathrooms, a deluxe compartment for VIPs, dressing rooms, and a dedicated lounge.

It was the B-314 Yankee Clipper, christened by Eleanor Roosevelt, that left Baltimore on March 26, 1939 for Europe on a survey flight that paved the way for transatlantic travel on a large scale. So Trippe and Pan began to do over the Atlantic what they had so successfully done in the Pacific. On May 20, 1939 they made the first regularly scheduled mail flight to Europe began.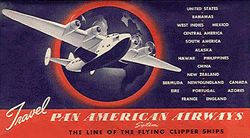 A month later, after its return, Pan Am's Dixie Clipper inaugurated the first regular transatlantic passenger service on June 28th. Before long, the B-314 Flying Clippers were to be found at destinations all over the world.

Unfortunately, this glorious era didn't last long. On December 7, 1941 the Pacific became a war zone. The flying boats were converted into troop and cargo transports, serving the Allies well in both campaigns.

But from World War II, was to emerge a different world. After Hirohito's surrender, advancements in avionics made during the war effort rendered the Clippers obsolete. As a part of the war effort, not only were longer range four-engine land planes developed, but the necessarily long runways built in many parts of the world, were now available. By the end of the War, the flying boats were no longer needed. The war shifted the gears of the country, making time a more important consideration than comfort. New technology and simple economics turned the attention to faster and more convenient land-based planes. Progress and prosperity were pulling Americans into a new era. An era powered by jet propulsion.

Pan American's fabulous flying boat era was accomplished with relatively few aircraft—three Sikorsky S-40's, ten S-42's, three Martin M-130's, and twelve Boeing B-314's—28 aircraft in all. However, the Flying Clippers did, during their time, permanently change the world's concept of time and space. By shaving off weeks and even months of travel time between peoples and nations, they helped to build a seemingly smaller, more cohesive world. By blazing a trail, overcoming new obstacles and daring the odds, they opened up international air travel from the privilege of a few to an ever-increasing general public.




Copyright © 1999-2006 Flying Clippers All Rights Reserved
All materials contained in http://www.flyingclippers.com are protected by copyright and trademark laws and may not be used for any purpose whatsoever other than private, non-commercial viewing purposes. Derivative works and other unauthorized copying or use of stills, video footage, text or graphics is expressly prohibited.