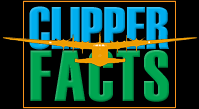 We have collected some interesting facts and stories surrounding Pan American's Fabulous Flying Clippers - some from Pan Am's own files and former personnel.





---



Copyright © 1999-2002 Flying Clippers All Rights Reserved
All materials contained in http://www.flyingclippers.com are protected by copyright and trademark laws and may not be used for any purpose whatsoever other than private, non-commercial viewing purposes. Derivative works and other unauthorized copying or use of stills, video footage, text or graphics is expressly prohibited.