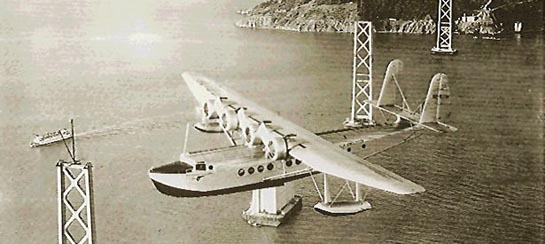 ---
Sikorsky S-42 Clipper History



Driven from Russia by the Russian Revolution of 1917, Igor Sikorsky always dreamed of building giant aircraft. His partnership with Juan Trippe and Pan American would give him that opportunity. After the overwhelming success of Sikorsky's S-38, Juan Trippe wanted a plane with greater range, better performance and a greater payload capacity. Sikorsky's opportunity came and the result was the S-40.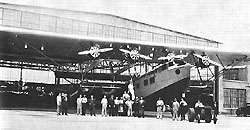 Rollout of the S-40 in Spring of 1931

The first S-40 delivered to Pan Am on October 10, 1931. It was flown to the Anacostia Naval Air Station at Washington D.C. to be christened by Mrs. Herbert Hoover the American Clipper. After Mrs. Hoover smashed a bottle of water from the Caribbean on the nose of the plane, Trippe called it a "flagship," and "the first American example of the great airliner of tomorrow that will speed trade and good will among nations." The Clipper designation was born.



The Clipper name was the brain child of Trippe himself. Trippe felt the flying boats shared a close relationship with the ships of the nineteenth century. Many of the same problems of buoyancy, equilibrium and streamlining that had faced the marine architects of the century before had to be solved on the drawing boards of the designers at Sikorsky and Pan Am as well.



Flying Clippers became one of the most famous names in aviation history. Many of the flight paths of these magnificent flying boats were based on navigational clues that originated in the old Clipper sailing ship logbooks. And the Flying Clipper pilots had to keep the same keen "weather eye" that enabled the salty captains of the Clipper Ship era to sail their way to a living legend. Even after the age of the flying boats had ended, Pan Am continued to name their land based planes Clippers.



It was during the inaugural flight of the S-40 on November 19, 1931 that Igor Sikorsky and Charles Lindbergh began discussing an improved and larger aircraft. In the ship's lounge they began making preliminary sketches on the back of a menu. With Juan Trippe's eyes now set on the oceans, the new plane called for an increased lifting capacity that would permit carrying fuel for a 2500 mile nonstop flight against a 30 mile-an-hour wind, at a cruising speed far in excess of the average operating speed of any flying boat at that time. Juan Trippe's challenge was also answered by Glen Martin but Sikorsky's S-42 was to be delivered first as Martin's plane was still almost a year away from completion.



The Sikorsky S-42 is regarded as the first truely American seaplane and was described as the "most beautiful aircraft of its time."










Sikorsky S-42 Clipper Data Sheet

Flying boat, 1934

Development:
Manufactured by the Vought-Sikorsky Aircraft Division of the United Aircraft Corporation in Stratford, Connecticut.. The aircraft first flew on March 30, 1934. A total of 10 aircraft were built. These were the first of the great Pan American Airways Clipper Flying Boats and the first true over ocean transport.



Modifications:
Model S42A upgraded engines, an improved airfoil, an increased wingspan, a stronger and lighter aluminum alloy skin, a larger gross weight and useful load and convertible sleeping accommodations for 14 passengers; Four aircraft built to this configuration. The Model S42B made additional aerodynamic improvements, increase in gross weight, improved fuel capacity and thus distance, and the addition of constant speed propellers enhanced the performance; Three were built to this configuration.
Service:
With Pan American Airways.
Crew:
4
Wingspan:
118 feet 2 inches / 36 m
Length:
69 feet / 21 m
Height:
21 feet 9 inches / 6.7 m
Gross Weight:
42000 lbs
Engines:
4x Pratt & Whitney Hornet Radial Engines (750 horsepower each)
Maximum Speed:
190 mph
Cruise Speed:
150 mph /
Cruise Ceiling:
16000 feet
Range:
1200 miles
Payload:
28-32 passengers

The Flying Clippers General Specifications Sheet
---
---
| | |
| --- | --- |
| | |


Copyright © 1999-2001 Flying Clippers All Rights Reserved
All materials contained in http://www.flyingclippers.com are protected by copyright and trademark laws and may not be used for any purpose whatsoever other than private, non-commercial viewing purposes. Derivative works and other unauthorized copying or use of stills, video footage, text or graphics is expressly prohibited.