1928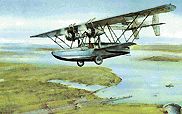 The unattractive but popular S-38 probably helped save the struggling Sikorsky Aero Engineering Corporation. Although a well engineered and extremely functional plane, even as it went into service, Pan Am's CEO, Juan Trippe, was already shopping for a bigger, better aircraft. For its time it was the ideal workhorse for Pan Am. With it, Trippe could now build bases up and down coastlines.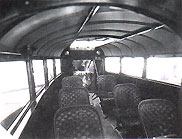 Once described as "a collection of aeroplane parts flying in formation," the S-38 had a maximum speed of 110-130mph and it could fly for six hours with a crew of two and eight passengers. Charles Lindbergh piloted an S-38 for Pan Am's first air mail service flight to the Panama Canal. Pan Am eventually purchased a total of 38 of these planes mainly for service in Latin America.


---
1931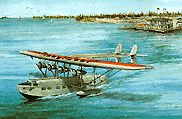 The answer to Juan Trippe's challenge to Sikorsky to design a bigger flying boat, was the S-40. It became the first of the great fleet of Pan Am's Clippers. In November of this year, the American Clipper—the original flagship of the Pan American Clipper fleet—made its first passenger flight from Miami to the Panama Canal Zone with stops at Cienfuegos, Cuba, Kingston, Jamaica, and Barranquilla, Columbia. It served in varying ways until it was scrapped in 1943.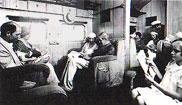 The S-40 could carry 38 passengers compared to the S-38's eight. It was the largest commercial aircraft of its time. Pan Am purchased only three S-40's to operate in Latin America. After ten million miles of flight, the American (the first Clipper), the Caribbean and the Southern Clippers were turned over to the Navy during World War II. They were used to train pilots to fly large four-engined aircraft and then all were eventually scrapped.


---
1934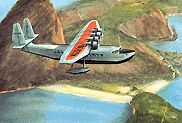 Ordered on October 1, 1932, Trippe wanted a luxury plane that could fly faster and longer than the S-40. On May 6, 1934, Sikorsky delivered the first of 10 S-42's to Pan Am. Air travel was becoming comfortable as it was exciting. America's love affair with the flying boat began with what really was the first of Pan American's great clippers. Pan Am would bring the Orient to America's doorstep.

On the final test flight the S-42 broke 8 world records for weight carrying. It could carry a payload large enough for commercial success. In August of 1934 Pan Am began service from Miami to Rio de Janeiro. Its success gave Pan Am a clear lead over its competition.


---


Copyright © 1999-2001 Flying Clippers All Rights Reserved
All materials contained in http://www.flyingclippers.com are protected by copyright and trademark laws and may not be used for any purpose whatsoever other than private, non-commercial viewing purposes. Derivative works and other unauthorized copying or use of stills, video footage, text or graphics is expressly prohibited.